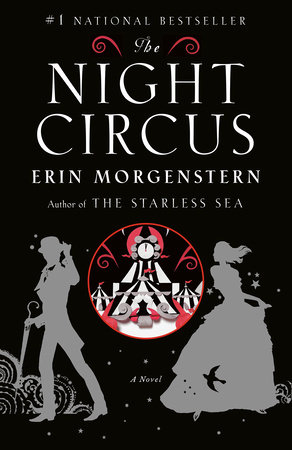 "You think, as you walk away from Le Cirque des Rêves and into the creeping dawn, that you felt more awake within the confines of the circus.
You are no longer quite certain which side of the fence is the dream."
Oooo guys. I loved this book! It was honestly gorgeous in every way. I know, I know. I'm pretty late to the game here, but I gotta be straight with ya; I did not expect this book to be so good! It has been sitting on my shelf for years and I just never got around to reading it. I kept putting it off do to my rather lackluster attitude toward circus books (I blame Water for Elephants for that 👎). But, I quickly discovered that the circus here is more of a magic show, complete with real magicians and illusionists. Did you ever see the movies The Prestige or The Illusionist? It's more like that, which is so much cooler!! I cannot stress enough that, if like me, you foolishly neglected to read this book, you need to do so right now!
The Night Circus immediately drew me into the story. The writing is so enchanting and seductive (not in a weird way) that after just the first few sentences, I was hooked. I loved how it started: "The circus arrives without warning. No announcements precede it. It is simply there, when yesterday it was not." Like yass! No wasted time here, let's get this story going! I love when authors have the sense to jump into a story and trust their audience to follow along. Like thank you, yes, I am an intelligent human who does not need every little detail and plot point spelled out for me (some YA books could learn a thing or two about that). The story unfolds organically at its own pace, and I never once felt confused or disoriented.
I also loved how Morgenstern built her world, because it was crafted in a way that just seemed natural. The book takes place in the late 19th and early 20th centuries, in cities that we are all familiar with: London, Munich, New York, etc. And her integration of fantasy and this magic system, that appeared to have been around for many years, was completely seamless. Again, she did not spend an unnecessary amount of time trying to explain how this existed or came to be, or the rules of this certain type of magic. It just was and the world carried on, with only a choice few being aware of it.
The writing style throughout the whole book had this distinct sense of mystery, similar to how she never spent too much time on explanations or focused too deeply on one situation. The writing is lush, lyrical, thoughtful, nostalgic, intricate, and enticing. There were so many fantastic take-away quotes from this novel! Some parts are charming and rich, other parts are darkly funny. The world and the setting are atmospheric, touching on all senses as you read. It truly is so easy to get lost in this book and imagine that you are experiencing the events of the circus right along with the characters. The book follows multiple points of view throughout the story and there is also a recurring couple chapters written in 2nd person perspective, where the reader is referred to as the character. These were especially effective in giving the reader a sense of participation and personal investment in the circus. It was so neat to feel like I was experiencing it at the same time as some of the characters!
All of this combined created a story that reads very much like a fairy tale or a verbal saga passed down by a storyteller. There was a certain distance kept between the reader and the characters, as they were all just moving players throughout this tale of the circus. I know some people were not super fond of this, because we never did get an intimate glimpse inside the minds of our characters. The story was mostly plot-driven and although it was brimming with emotion, it did not read like a typical romance or character-focused novel. Does that make sense? It was like the story as a whole was what we were supposed to connect to and not just one person or one love story. I know some people were not a fan of this because they felt like it brushed over character development and did not dwell on moments that they really wished to see more of (like the romance between Marco and Celia). Many disliked that so much time passed between their interactions. I, however, thought this was exactly the right tone for this novel. It was never just about the romance or any one character. I thought it was fantastic that Morgenstern jumped between viewpoints and settings, and even time periods. It helped to maintain that air of mystery throughout the entire novel and gave it that sense of magic.
And for me, I felt like the Night Circus itself was the main character. We are told right in the blurb that Celia and Marco, two students of master magicians that are pitted against each other in a magical duel, are going to fall in love. That is not really the mystery here. And yes, their relationship is compelling and beautifully executed, and their duel complex, but I was much more invested in the circus (and the creators of the circus) as a whole. Each character is wonderfully written and I loved how they were all connected to the circus in some way. The circus affects them all in strange and glorious ways, and as they come to realize this, the story becomes even more engaging. I knew anything could have happened at the end, based on how Morgenstern wrote the novel, so I was racing to finish and see how it was all resolved. I was not disappointed!
As a standalone, the book was perfectly wrapped up and contained into this one novel (I mean it was a 500+ page standalone, but still). That is not to say that all of the plots were neatly tied up or all of your questions answered, but they didn't need to be. The ending was very satisfying. Overall, this is a beautifully written, unique, captivating, whimsical, and deeply romantic story that you should read way sooner than I did!
Some stray thoughts:
I was absolutely loving the black and white (and hint of red) aesthetic.
Adored Widget and Poppet!
I want to go to a Midnight Dinner.
Is it bad that I kind of liked Prospero the Enchanter? 😂 Even in ghost form.
Herr Thiessen was too pure for this world.
I am genuinely sad that magic and the Night Circus do not exist. 😭
Bailey's sister was the woooooorrrrssssstttt.
The whole kinda creepy aging thing with the circus creators was a great detail. I loved the eerie aspect that it added to the plot.
THE PROSE!!
Ok, yes there were so many things to love about this book. So good!
Happy reading!
Title: The Night Circus

Author: Erin Morgenstern

Genre: Fantasy | Fiction | Romance | Historical Fiction | Magical Realism

Publication Date: September 13, 2011

Page Count: 512 pages