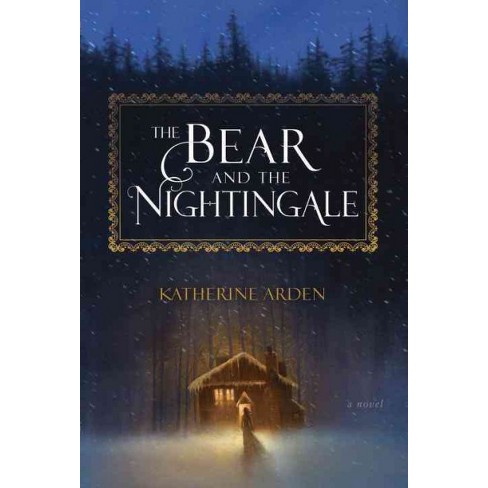 "All my life," she said, "I have been told 'go' and 'come.' I am told how I will live, and I am told how I must die. I must be a man's servant and a mare for his pleasure, or I must hide myself behind walls and surrender my flesh to a cold, silent god. I would walk into the jaws of hell itself, if it were a path of my own choosing. I would rather die tomorrow in the forest than live a hundred years of the life appointed me."
Ayyy another 4 star book!! I am loving this streak!
This book has been on my radar for a long time now, since it came out just about, and I was so excited to finally get around to reading it. And for a bargain price of $5, no less! It is a beautiful hardcover copy with deckled edges, so I was very very happy about that. And, to top it all off, the book was freaking awesome! I loved the writing here, the story, the mythology. It was very well done and definitely a 4 star read for me.
I thought this story was wonderfully executed. In it, we follow the life of Vasilisa, or Vasya, from when she is born until she is about 14 years old – if my calculations are to be trusted, which lets be real, they never are. The narration actually bounces around between a lot of different perspectives throughout the story, which can be a bit jarring, but it was easy enough to follow. For the most part, we are in Vasya's head and she is a fantastic character! I loved her passion, her stubbornness, her sense of self, and her love for her family. She made a great heroine and I was never bored while reading about her.
I also really enjoyed reading from her father Pyotr's perspective, and although he is a slimy character, the priest Konstantin's, as well. Pyotr was a strong man who was trying to do best by his family. I appreciated his commitment to his village and his people. Konstantin was very interesting to read about because he thought he was so strong, but was actually one of the weakest characters in the novel. His arrogance, denial, and superiority complex really led him astray. His dark obsession with Vasya was creepy and played into his instability.
This, in turn, led to some of the most convincing and effective atmospheric writing that I have read in some time. The story already sounded like a true Russian fairy tale from the beginning, with the introduction of Vasya's mother and her death during Vasysa's birth. It picks up all of these threads throughout the book and weaves them together with Vasya's village, and the haunting tones there, at the center. Once Konstantin arrives in town, the light fairy tale quality of the storytelling becomes much more chilling and dark. What was once a comforting tale of old world Russian folklore, set in a pastoral village by the woods, becomes a horror story. The benevolent domovoi and other friendly spirits turn into chyerti and demons. The turn in tone is lush and delicate. It was very well crafted.
The writing is absolutely an ode, a love story almost, to Russian history, mythology, folklore, customs, and landscape. It is written beautifully and crafted with knowledge and admiration. As you all know, I am quite picky about my Russian novels and I definitely felt like this one was well researched and expressed that authentic Russian spirit. I loved the personification of Morozko and his brother, and how they used their influence over nature and the elements to war against each other.
This book is very much setting up the next two in the trilogy, but I never found the steady, careful pacing boring. It felt like just the beginning of a bigger and grander whole. I am super excited to get the next book and see how Vasya's story progresses after that intense climax!! It's definitely high up on my TBR now!
Some stray observations:
Honestly, the writing is beautiful and everything is described so lusciously.
There were a few times where the phrasing/narration got just a little bit repetitive.
I loved Dunya and her role as Vasya's surrogate mother. She was so kind.
Anna was a very interesting character, because I both hated her and pitied her.
I LOVED all of the horses in the book and the clear love that Vasya (and the author) have for them. I am really looking forward to more adventures with her new horse Solovey.
I know Vasya is still quite young, although at a marriageable age by medieval Russian standards, but I am wondering if there was a hint of a romance between her and Morozko??? There was definitely some mutual interest and respect there. Either way, I am here for it!
What did you guys think?? Did you love it? Was it too slow paced for you? Let me know down below!
Title: The Bear and the Nightingale (Winternight Trilogy #1)
Author: Katherine Arden
Genre: Fantasy |Historical Fiction | Fairy Tales | Literature Fiction | Russian Folklore | Mythology
Publication Date: January 10th, 2017
Page Count: 323 pages
Buy It: Wordery | Book Depository