So I accidentally got sucked into some Sansa/Sandor meta earlier (cough cough accidentally) and it made me think about how much I miss Game of Thrones and want it to come back ASAP. And not just for SanSan 😉. Now, currently I have only read the first book in the series (when I was far too young for it I think hahaha whoops!) and after that, I have just watched the show. I didn't really want to mix the two, so I plan on reading all of the books once the show ends. And the show is taking forever!!
But anyway, here's a book tag to honor my intense yearning for the final season of Game of Thrones. 
This tag was created by Claire Rousseau on YouTube. You can find the original video here.
The Questions:
1. Arya – A character that's all about revenge
Amy Dunne – Gone Girl by Gillian Flynn
Amy was such an interesting, complex, creepy, and awesome character. Her story arc in the book was all about getting revenge on her godawful husband, her mundane life, men who had used her, societal expectations, the burden of normality, etc. Not that she was really a good character, because she was kind of a psychopath, but she was deadly fun to read about. I feel like all characters hellbent on revenge kind of become villains, anyway.
2. Varys – A book featuring political intrigue
When I read this, I remember being pleasantly surprised by the historical and political plot points in it. It really took a plot that could have been hokey and cliche, and brought it to an elevated level for me. The political intrigue was fast-paced and thrilling, so it never bogged down the story.
3. Joffrey – A villain you just love to hate
Professor Umbridge – Harry Potter by J.K. Rowling
Ugh. Umbridge has to be the worst character ever (as in a well-done horrible human)! She was so infuriating for me to read as a child. I just wanted to see her get what was coming to her! Definitely loved to hate her and still do.
4. Jon Snow – A coming of age story
This book is an interesting take on a coming of age story, because it deals with the concept of immortality and the ability to choose not to age at all. The protagonist Winnie is faced on the one hand with her approaching adulthood and, on the other, with everlasting life and youth. Her thoughts and choices really struck me when I read this and made me wonder what I would have done in her place.
5. Jaime & Cersei – A ship you just can't get behind
Karou and Akiva were super annoying. I have said it before, but I stand by my opinion that Laini Taylor is a great writer who can't write love for shit. She should stick to building up cool worlds and writing about mythology and stuff. Because every relationship she focuses on is pure insta-love garbage. Karou and Akiva were suddenly in love after like a page and a half, because he just couldn't kill her. Not when he felt such a "pull" toward her.  🙄
6. Lady Olenna – A kick-ass older character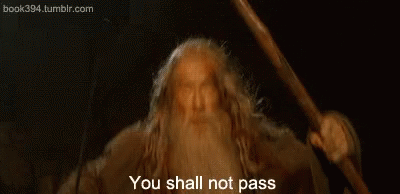 Gandalf the Grey/White – The Lord of the Rings/The Hobbit
Come on, who is a cooler older character than Gandalf??? He's a grumpy old wizard with a soft spot for hobbits and entertaining kids with fireworks. He can kick ass like nobody's business and he is sassy to boot. Like, he freakin' died and came back to life to kick more ass!!
7. Dany – A book featuring dragons
Ok, I know, I know. This book isn't out yet. BUT I am so excited for it and the cover is gorgeous and the summary sounds great and Samantha Shannon is a fabulous author!! I think it is going to be so good and the dragons are heavily featured in the story/world. I want it now!
8. Sansa – A character you grew to love
When she was introduced here, I definitely did not like Lysandra. She seemed like a throwaway character, just a bitchy girl that was introduced to give Celeana a hard time. However, once she returned in the later books, it was clear that there was so much more to Lysandra than we previously knew. She became a nuanced and developed character with a tragic backstory and fierce character traits. I love her now.
9. Melisandre – A favorite magic system
This series has one of the coolest magic systems I have ever read about! The concept of the jewels and a person's inner levels of power is really neat. It is very well-developed, too, so it makes sense to the reader and does not leave a lot of holes in the system. Just read these books already, if you haven't yet!
10. Tyrion – A character whose weapon is their mind
I want to say Tyrion because he is like the embodiment of cleverness and intelligence as a weapon 😥 buuuuuut how about Elizabeth Bennet? She is savagely witty and sharp-tongued. Brilliant and strong. I think this question is a good description of dear Lizzie, too.
This was so fun! But, I still miss Game of Thrones 😦 😭.
Consider yourselves tagged!